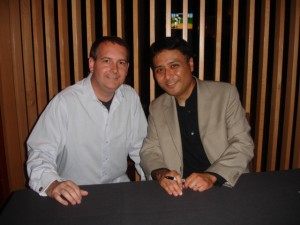 Jon Nakamatsu performed at Yoshi's in San Francisco last night as part of KDFC's classical series. Jon's an amazing pianist and the relaxed setting of Yoshi's allowed him the opportunity to introduce each piece and even hold a brief Q&A with the audience. Here's his setlist:
Schumann/Liszt: Wigmund (Dedication)
Rameau: Gavotte et doubles
Schubert: Impromptu in E-flat Major, Op. 90, No. 2
Liszt: Sonnet 47 of Petrarch
Mendelssohn: Rondo capriccioso, Op. 14
Brahms: Allergo from Piano Sonata in C, Op. 1
Liszt: Dante Sonata
Chopin: Fantaisie-Impromptu in C sharp minor, Op. posth. 66 (encore)
Kudos to you, Jon, for offering a wonderful program with several rarely heard selections!