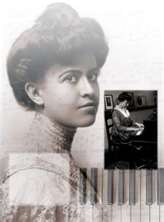 October's Santa Clara County MTAC meeting featured author Donna Kline, author of the book An American Virtuoso on the World Stage and producer of the documentary Virtuoso: The Olga Samaroff Story.
It was a fascinating lecture about a person that I'd never heard of, but I knew immediately that I had to find out more. After reading the book and watching the DVD, I can strongly recommend both! Born Lucy Hickenlooper in San Antonio, Texas, Samaroff became a successful concert pianist in an era when being an American musican was enough of a disadvantage, much less being a woman pianist. After her concert career, Samaroff became an instructor at Julliard and the Philadelphia Conservatory, where she taught many students that would in turn go on to successful careers, including Eugene List, Rosalyn Tureck and William Kapell. Here are some of my favorite Olga Samaroff facts:
In 1905 Olga Samaroff debuted at Carnegie hall (after her concert promoter insisted that she change her name to sound more slavic) by hiring out Carnegie Hall and the New York Symphony Orchestra under Walter Damrosch, performing both the Liszt Concerto no. 1 in E flat and Schumann's Piano Concerto in A minor, Op. 54, in addition to several solo pieces.
Samaroff became the first American pianist to perform all 32 Beethoven piano sonatas in concert. This took place over eight concerts during the 1920-1921 season.
In 1945 Samaroff organized an all-Prokofiev concert series at Town Hall that featured her students performing all seven piano sonatas that Prokofiev had composed to that time!
Madam Samaroff's advice to her students was to "Exhaust the printed page". Find out more about this American original at: www.olgasamaroff.com.