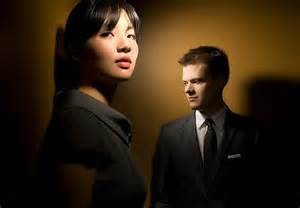 Anderson & Roe were the featured performers at this year's Music Teachers Association of California (MTAC) Conference in Los Angeles, and they put on an wildly entertaining and varied recital.  The pianists are sparkling virtuosos and, in addition, they're brilliant arrangers; turning Michael Jackson's Billie Jean, as well as several selections from Mozart operas into two piano wonders.
A personal highlight was the performance of an original two piano work by Brahms, Variations on a Theme by Haydn, Op. 56b.  I was unfamiliar with this gorgeous piece and listening to these great performers, it was easy to imagine Johannes and Clara playing through it together for the first time, a love letter from the composer to the pianist.
Anderson & Roe are true entertainers, and it's during the pieces when both pianists share one keyboard, such as Piazzolla's Libertango or the Grand Scherzo from Mozart's Cosi fan tutte, K.588, when things get interesting; smoldering looks betray what?..jealousy, passion, lust, you name it!   It's all an act, but an enjoyable one to watch, not any different than what you'd expect to see at an opera.  The music is the thing, but it's heightened by the drama unfolding between the performers.
After the recital ended (after several encores!), the performers stuck around and signed CDs and scores (yes, their arrangements are published and available on the Anderson & Roe website (http://www.andersonroe.com/scores/)  By the way, their arrangement of Gluck's Ballet from Orphee et Eurydice is breathtakingly beautiful, and not outside the abilities of intermediate piano students.  I picked up both of their CDs and want to give special mention to their all-Mozart collection, An Amadeus Affair, which has been in constant rotation since returning home.  It contains four arrangements by Anderson & Roe, including their irreverent take on the Ronda alla turca, renamed Ragtime alla turca, as well as arrangements of Mozart by Busoni and Lizst, and the original Sonata for Two Piano in D major by Amadeus himself.