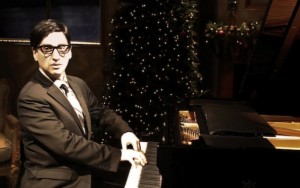 We recently attended a performance at the beautiful Mountain View Center for the Performing Arts of Hershey Felder as Irving Berlin.  We'd previously seen Felder perform as Leonard Bernstein and Frederic Chopin at the Berkeley Rep.  Hershey Felder does an absolutely amazing job of immersing himself in these great composers and performers.  Not only does he perform his original script, he sings and plays the piano throughout the performances.  After experiencing his one man shows, you leave the theater feeling that you've gotten to know who Irving Berlin really was.
Here's some interesting things I learned about Irving Berlin during Mr. Felders wonderful performance:
Berlin didn't read or write music!  When he composed, the self taught composer worked out the piece in the key of F sharp, which used all of the black keys.  Berlin said "The black keys are right there, under your fingers. The key of C is for people who study music."
When Jewish Irving Berlin married Catholic Ellin Mackay, daughter of financier Clarence Mackay, the resulting news frenzy gave birth to the papazazzi, as they became known later.
Berlin donated all of his royalties from his song God Bless America to the Boys and Girls Scouts of America.  Berlin wrote the song in 1918, but set it aside until 1938, when it was introduced on an Armistice Day radio broadcast by Kate Smith.