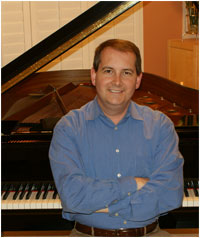 You've come to the right place.  I teach piano to all ages from young children to adults, and all levels. Piano lessons are taught in my San Jose home which is  conveniently located near Willow Glen, Almaden, Evergreen, Santa Teresa, Campbell, and Morgan Hill.
Learning to play the piano will be fun, quick and easy!
Playing the piano is a lot of fun. With proper instruction, learning to play piano is fun as well. And you'll be surprised how easy it is to get started! I offer a free piano lesson in my San Jose home so both the student and the parent can see how I teach before they hire me as their piano teacher.
As your piano lessons progress, you will learn proper technique and music theory hand in hand with musicality and expression, experiencing the joy of bringing the notes to life.
Craig is an extremely talented and knowledgeable pianist and piano teacher. It's apparent that he truly enjoys teaching piano. In the short time that I've worked with him, I have already made remarkable progress."
As my students journey from their first primer to intermediate pieces to the pillars of the repertoire, they are challenged, encouraged and, most of all, have fun while learning to play piano.
One of my students recently admitted that she'd wanted to learn to play the piano for 20 years before starting lessons, but thought that it would be too demanding and difficult. Once she started, she realized that private piano lessons allow an instuctor to tailor the pace and intensity of the lessons to the student's age, natural abilities and goals. Now she says, 'Better late than never!'
Learn to play the piano, and you'll learn a skill that will last a lifetime!
Not sure if I'm the right piano teacher for you? Please be my guest in a free introductory piano lesson and let's find out!
If you're interested in learning other instruments, or taking dance classes, please check out Santa Teresa Academy of Music and Dance.  For more information, visit our website at www.academyofmusicanddance.com.